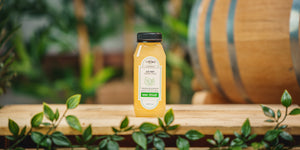 Frequently Asked Questions
How long can the juices & syrups be preserved?
At Crowd, we are proud of the freshness and quality of our products.
Our cold press juices and our syrups are good for a period of 30 days after the production date. They must be kept in the refrigerator at all times and be placed there as soon as possible upon reception.
We suggest that you use the products within 3-4 days after opening.
If I order a box, whether for myself or as a gift, how long is the expected delivery time?
The delivery of our boxes is made within 5 work days following the date that the order was placed. Delivery time can vary depending on region.
We ship from Monday to Friday.
This being said, we do not have full control over the delivery company, delays can happen.
I don't drink alcohol, are there alternatives to the suggested recipes?
Of course! Here are the alternatives suggested by Crowd:
Replace the spirit by an alcohol free one

Replace the spirit by the same quantity of water or soda
Since each ingredient is separate, you can mix up the acidity/sweetness balance to fit your preference. You are the mixologist today, be creative!


I don't like the alcohol suggested in one of the boxes, can I replace it with another spirit?
Our mixologists created these cocktails to be perfectly balanced with a particular spirit in mind but don't worry: most of our drinks can be just as delicious with another spirit. Once again, let your imagination run wild!
Are there other sizes of boxes?
Not at the moment but the Crowd team is working really hard to offer a smaller size as well as a monthly membership! Follow us on our social media to be kept in the loop!
If I don't own a shaker, what can I use from my kitchen?
No shaker? No problem! A Mason jar works perfectly well or even any container with a lit made out of glass or plastic. (We prefer glass)
Is it possible to personalize a box and/or add various items?
Depending on the quantity, it is possible to have a fully customized box. For further inquiries regarding our personalization options, please contact us by phone or email.
Please note that our small boxes as well as boxes sold individually are not available for customization.
What should I do if my box is damaged or there are some ingredients missing?
It is possible that some products get lost during delivery. If this is the case, send us an email and we will make sure to replace or refund the missing and damaged item(s).
What happens if I am not home to receive my box?
No worries! The delivery man will leave the box in a safe place close to your door. Our isolated covers ensure that our boxes can stay outside for a certain period of time. Careful, you still need to store the juices and syrups in the refrigerator as soon as you get home.
If I chose to pick up my box, how does it work?
You can pass by our office to retrieve your box 72hours after placing your order (working days). Our team works hard to offer fresh products. Help us give you the best experience possible by collecting your box within 10 working days. This way, you assure maximum freshness!
Tell me about your products…
We can't say it enough, freshness is our number one priority!
Our team of experimented mixologists created syrups made out of local ingredients. Our juices are cold pressed in Quebec and contain no preservatives. We make it our mission to mainly encourage local suppliers.
I have allergies…
It's possible that our products contain traces of tree nuts. All ingredients are listed on the juice bottles, if you need any further information, please feel free to contact us by email or telephone. It will be our pleasure to answer any questions you might have.


I don't feel confident that I can achieve the cocktails on my own, is there a tutorial available?
We frequently organize Facebook "lives" on our page with a mixologist.
How does it work? It's very simple: "like" our page Crowd Bar & Flair to receive a notification once the session starts.
I have various spirits and liqueurs at home, can I incorporate them into your recipes?
Our mission is to help you push boundaries, experiment and let your creativity run wild! To be a mixologist, it's also to not be afraid of trying new things. Each one of our recipes contain a "Pro Tip", don't hesitate to try it out and if you're feeling adventurous, why not try taking it even further!
How many cocktails can I make with my box?
Excellent question! Each box contains 2 recipes that can produce 8 cocktails each. Note that if you are making mocktails, it is possible that you'll be creating less drinks.
Where do you ship?
Our isotherm cover allows our products to be out of the refrigerator all throughout the delivery process. We are very proud to offer shipping all across Canada. This being said, please note that since we are based in Montreal, shipment cost and delay can vary depending on destination.
Can you deliver my box on a specific date?
Unfortunately, it is not possible for us to ensure a specific delivery date. If this is important to you, may we suggest that you pick it up or that you make sure to order your box a week in advance. Considering that our boxes have an extended preservation period, there is good margin to maneuver.
I want to organize a virtual workshop with my colleagues or friends, how can I do that?
Each event is different. It's important for our team to fully understand your needs in order to offer you the best tailored experience. Please contact us by phone or email.